for Designers and Design Agencies
The WebDepartment is for anyone who designs, or wants to design, WordPress websites.
Do any of the below sound familiar?
Handling technical stuff is killing my design flow
I hate being on call 24/7 for the hosting but want my clients looked after
I can build web sites but I just want to know everything is done properly and up to date
I haven't got time to research the best themes and plugins
I wish I had someone to help with the gnarly bits, such as CSS and code
I would love to have someone that I can rely on, that can be there when/if something goes wrong
If so, we can help.
Our service is comprehensive, unique and can be tailored to suit your individual requirements. Better still, it costs you nothing at all. There are no tie-ins, no sales targets, no pressure. You carry on with your business in your own style, however you like – we simply provide background support and services.
In short, you get to do the parts you enjoy – maybe sales, maybe design – we fill the technical gaps. That way you can maximise your skills, and our technical know how means you can have real confidence in the products you sell. Everyone gains – especially the end customer who gets quality products and good value.
Your customers, your design, we're just there to take the hassle out of technical!
Go eCommerce
add a WooCommerce base configuration to any of the above to create a shop:
Install and configure WooCommerce with default styles
Configure one of the built in shipping method (pickup from store, free shipping or flat rate shipping)
Configure PayPal or Stripe payments.
Ready for you to style and enter your products
Allow $250 + GST.  Many extra options are available subject to separate quote.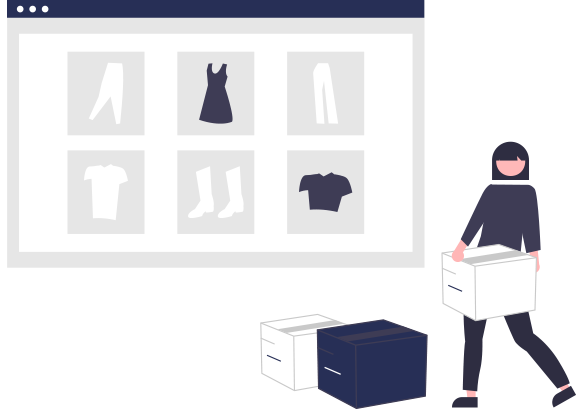 The small type...
* Domains and hosting not included.  .co.nz domains $29.95 + GST /year.  Hosting $295 + GST /year, minimum 1 year.
General:
Domains:
While we offer domains at competitive prices via https://my.slightlydifferent.co.nz/ you are free to purchase your clients domain wherever you please and do not have to transfer them to us.  However, if we are not managing the domains for you then you just need to bare in mind that is your responsibility.
Any domains registered via us are registered to the end customer, they retain ownership.
Hosting:
This is a fully managed service and as such all hosting is carried out on our own servers (see https://www.slightlydifferent.net.nz/services/nz-web-hosting).
Web sites offered by the Web Department are installed on one of our fully managed cloud based WebEasy multi site Wordpress servers. This gives us full control to provide you the optimal service.
If, at any time after the first years hosting, you or your client would like to move the site to another web host you're totally free to do so, provided notice is given at least 30 days before the annual renewal of the hosting.  We can provide a an exported package of your individual site that you can install on any web host that supports Wordpress.  However, we cannot support sites that are not hosted with us.
Themes, plugins and updates:
All our WebEasy multi site Wordpress servers are fully managed including regular Wordpress, theme and plugin updates.  For this reason we use a very carefully selected and vetted set of themes and plugins that we know to be reliable and perform well. While we do our best to ensure all popular functionality is covered by our selection of plugins we recognise it is a restricted list.  There is therefore a process of suggestion and vetting for proposed new plugins should something be required that is not currently offered.
Ongoing SEO:
Ongoing SEO is not included. All the tools are provided for you to easily and effectively provide ongoing SEO you your clients.  We can also provide an ongoing SEO service; see https://www.slightlydifferent.co.nz/services/search-engine-optimisation/.
Support:
Sales and technical support is supplied within the limitations of the solution offered.  These restrictions are not here to strictly enforce but as general guidelines and to allow us to prevent abuse of our support service.  We will always do our best to help!