for Marketing and Sales Professionals
The WebDepartment is for anyone who sells, or wants to sell, WordPress websites.
Does any of the below sound familiar?
We want to offer our clients more
Handling the knitty gritty technical stuff just takes too much precious time
We want to be able to use talented designers, when we need them
We just want to sell web sites and know everything is done properly
We hate being on call 24×7 for the hosting but want our clients looked after
We just don't have the time for ongoing social media / content updates etc
We don't want to be tied in or have any additional costs
I would love to have someone that I can rely on, that can be there when/if something goes wrong
If so, we can help.
Working in a marketing environment inevitably means that web sites will be part of a larger conversation. Not all clients will need a web site, but many will. We understand that marketing is a very broad subject, and it's hard to be an expert in everything! You may enjoy the web, but many marking and sales professionals we talk to have some knowledge, but haven't got the time or inclination to dive into the technical side of web development.
Our service is comprehensive, unique and can be tailored to suit your individual requirements. That means you get to do as much or as little of the web site work as you would like.
Better still, there are no direct costs to you. You set your own prices and factor in whichever WebDepartment package you would like to use. There are no tie-ins, no sales targets, no pressure. You carry on with your business in your own style, however you like – we simply provide background support and services.
The customers are yours; we just take the hassle out of technical!
Go eCommerce
add a WooCommerce base configuration to any of the above to create a shop:
Install and configure WooCommerce with default styles
Configure one of the built in shipping method (pickup from store, free shipping or flat rate shipping)
Configure PayPal or Stripe payments.
Styled to match the design and ready to enter your products
Allow $500 + GST.  Many extra options are available subject to separate quote.
WooCommerce customise design and initial products:
Customise the shop page designs within the standard WooCommerce layouts allowing up to 2 hours design work
Setup up to 5 initial products and 5 initial categories
Extra products typically 10 to 45 minutes per product at $105 + GST /hour depending on complexity of the product
Allow $400 + GST + extra products, design and customisation if required subject to separate quote.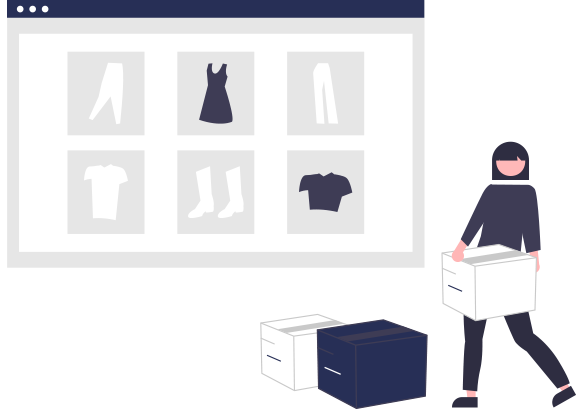 The small type...
* Domains and hosting not included.  .co.nz domains $29.95 + GST /year.  Hosting $295 + GST /year, minimum 1 year.
General:
Domains:
While we offer domains at competitive prices via https://my.slightlydifferent.co.nz/ you are free to purchase your clients domain wherever you please and do not have to transfer them to us.  However, if we are not managing the domains for you then you just need to bare in mind that is your responsibility.
Any domains registered via us are registered to the end customer, they retain ownership.
Hosting:
This is a fully managed service and as such all hosting is carried out on our own servers (see https://www.slightlydifferent.net.nz/services/nz-web-hosting).
Web sites offered by the Web Department are installed on one of our fully managed cloud based WebEasy multi site Wordpress servers. This gives us full control to provide you the optimal service.
If, at any time after the first years hosting, you or your client would like to move the site to another web host you're totally free to do so, provided notice is given at least 30 days before the annual renewal of the hosting.  We can provide a an exported package of your individual site that you can install on any web host that supports Wordpress.  However, we cannot support sites that are not hosted with us.
Themes, plugins and updates:
All our WebEasy multi site Wordpress servers are fully managed including regular Wordpress, theme and plugin updates.  For this reason we use a very carefully selected and vetted set of themes and plugins that we know to be reliable and perform well. While we do our best to ensure all popular functionality is covered by our selection of plugins we recognise it is a restricted list.  There is therefore a process of suggestion and vetting for proposed new plugins should something be required that is not currently offered.
Ongoing SEO:
Ongoing SEO is not included. All the tools are provided for you to easily and effectively provide ongoing SEO you your clients.  We can also provide an ongoing SEO service; see https://www.slightlydifferent.co.nz/services/search-engine-optimisation/.
Support:
Sales and technical support is supplied within the limitations of the solution offered.  These restrictions are not here to strictly enforce but as general guidelines and to allow us to prevent abuse of our support service.  We will always do our best to help!
If you are using our design services:
Additional web pages:
Additional web pages to the number quoted for, you are free to add these yourself before or after the web site goes live. Alternatively we are happy to add these for you at a rate of $65 + GST /page. The per page price for additional web pages is subject to all content (photos, text, etc) being provided in a web ready format that can be directly copied into the web site and then laid out by our designers. It also only covers a "normal" page. Where there are a lot of custom design elements, complex layouts, additional forms or other page features that take significant time we reserve to right to quote separately for individual pages.
Additional support with content:
Where additional support is required, beyond the time allocated for the package purchased, with content layout, design of content elements and on how to use the system to style content we reserve to right to quote / charge as extra work..
Variation of design:
Where any changes to design are required after design sign off we reserve the right to quote / charge for those changes as extra work.
Assumptions:
• The logo and any brand guidelines will be provided by you in a suitable web ready format and will be provided, in final form, before the work commences.  If you require logo design we can recommend a number of good designers from our user base and this is subject to separate quotation by them
• All content (text and images) will be provided by you in a suitable web ready format and will be provided, in final form, before the work commences
• Any dynamic content such as animations, carousel banners, etc, beyond what our designers choose to include as part of the design, are subject to separate quotation unless otherwise stated
• All brand and content will be provided in its final form. Where significant or more then one set of changes are made to these after the pages have been populated the extra work will be charged
Exclusions, where not specifically quoted:
• Logo design or brand development
• Copy-editing and writing
• Photography
• Ongoing web site content management (content and SEO)
• Future web site updates / upgrades
• 3rd party costs and licenses, if any, unless explicitly stated